Message from the Provost and Vice-President, Academic
Dear colleagues,  
As we approach the midpoint of winter term two, I'm pleased to share with you the latest version of Academic Update—the Provost office's quarterly newsletter that captures the many academic initiatives and projects underway at UBC Okanagan.  
In this edition, you will find recently launched academic initiatives, including the new ICI building expression of interest process and a new webpage for equity, diversity, and anti-racism resources, alongside remarkable stories of student and faculty success and important details and deadlines regarding upcoming award and funding opportunities 
I am also pleased to share newly launched teaching resources for faculty and course instructors that will support UBC Okanagan educators during the remainder of the academic year and into the future.  
Regards,  
Dr. Rehan Sadiq, PhD, PEng, FCAE, FEC, FEIC, FCSCE
Professor and Distinguished University Scholar
Provost and Vice President, Academic

New webpage highlights inclusivity, diversity, equity and anti-Racism (IDEA) leadership and resources at UBC Okanagan
The UBC Okanagan Provost office Inclusivity, Diversity, Equity and Anti-Racism (IDEA) portfolio provides faculty and staff with strategic advice and resources to support and grow a respectful culture of inclusion, equity and diversity. This new webpage highlights the leadership, strategy and frameworks that support IDEA work at UBC, and supports action on anti-racism commitments through highlighting community projects and initiatives, as well as providing learning opportunities and helpful guides for faculty and staff.

ICI Building Expressions of Interest now open
Construction is underway on the Interdisciplinary Collaboration and Innovation (ICI) building, set to open in December 2025. UBC Okanagan faculty interested in working in the new space and joining the ICI community are invited to submit Expressions of Interest by May 15, 2023.

GET ACADEMIC INTEGRITY NEWS AND RESOURCES STRAIGHT TO YOUR INBOX
Sign up for Academic Integrity Digest, UBC's new bi-monthly newsletter that addresses current topics around academic integrity and brings together resources to support instructors and students and further reading.

INTERNATIONAL PARTNERSHIP SUPPORTS SUSTAINABLE TECHNOLOGY SOLUTION
UBC Okanagan and long-standing partner the University for Development Studies (UDS) in Ghana collaborated to find a sustainable solution to keep iClicker remotes in use after UBCO switched to a cloud-based iClicker system.

UBC Okanagan participates in National Survey of Student Engagement (NSSE)
More than 500 higher learning institutions are participating in the 2023 NSSE—an international survey of first- and fourth-year undergraduate students about their university experience. Encourage your students to participate— past NSSE surveys have informed academic planning, research, university rankings and reports, and external reviews. 

Workday Student: Curated Resources for Faculty & Other Course Instructors
A new Workday Student resource hub is available for faculty and other course instructors at UBC. Learn more about the new student information system, understand relevant change impacts and view answers to frequently asked questions.

Take Five for Academic Integrity
This in-class awareness campaign provides materials for instructors to support academic integrity conversations in the classroom.
February is Black History Month
Black history month is an important time to acknowledge, celebrate and reflect on the contributions and experiences of Black individuals and communities both at UBC Okanagan and beyond. Thank you to the many units, departments, student groups and individuals for hosting events celebrating Black excellence and achievement and sharing important knowledge and resources with our community. Learn more about the events still to come.
FACULTY PROFILE
About Dr. Emmanuel Twumasi Osei
Dr. Emmanuel Twumasi Osei's journey in higher education has been filled with twists, turns and some globe-trotting. Now an assistant professor of biology at the Irving K. Barber Faculty of Science, Dr. Osei is excited to incorporate active learning principles in his teaching.
FACULTY PROFILE
Get to know John-Tyler Binfet
Dr. John-Tyler Binfet started his journey as a public school teacher and school counsellor, attending evening and weekend classes at UBC's Vancouver campus to earn his Master's and PhD. He is currently a professor at the Okanagan School of Education.
STAFF PROFILE
Meet Kirsten Bennett
Kirsten Bennett joined UBC Okanagan in 2012, supporting the campus in several roles before taking a position with the Office of the Provost in 2019. She currently works as Senior Manager, Strategic Projects in the area of learning services.

Undergraduate research shines at showcase event
The impressive skills of undergraduate researchers were on full display at the Undergraduate Research Showcase in January. Hosted by the Undergraduate Research Ambassadors, the event brought together eight student panellists to present their unique undergraduate research pathways and share how research experiences have enhanced their studies.
Student-led seminar fills a gap in the curriculum
Psychology student Hoky Hsu has developed a class that explores the psychological experiences of the LGBTQ2SIAA+ community from an intersectional lens as part of the UBC Okanagan's Student Directed Seminar program. 
---
engineering students bring downhill toboggan race to Kelowna
UBCO's School of Engineering hosted the Great Northern Toboggan Race in January—a multi-day, student-led event where universities from across Canada race their hand-built concrete toboggans down steep hills.
---
GUILHERME DURVAN ANTÓNIO ZANDAMELA EXCELS AT UNDERGRADUATE RESEARCH
Thanks to UBCO's undergraduate research opportunities, this fourth year Biochemistry student is on the path to becoming a scientist.
Award Highlight
Killam Teaching Prize nomination deadline extended to March 8
Department Heads are invited to nominate faculty members who have demonstrated excellence in educational leadership, teaching excellence and educational innovation, for the prestigious Killam Teaching Prize. Nominees should also along with have demonstrated intentional commitment to equity, diversity and inclusion. Nominations must be submitted to ubco.provost@ubc.ca by Wednesday, March 8, 2023. 
UBC Okanagan Success: Teaching and Learning Awards and Funded Projects
AWARD-WINNING FACULTY

Rishma Chooniedass receives NNPBC award
Congratulations Rishma Chooniedass, who was awarded a 2023 Nursing Award of Excellence for Excellence in Nursing Education from the Association of Nurses and Nurse Practitioners of BC.
Award-Winning Faculty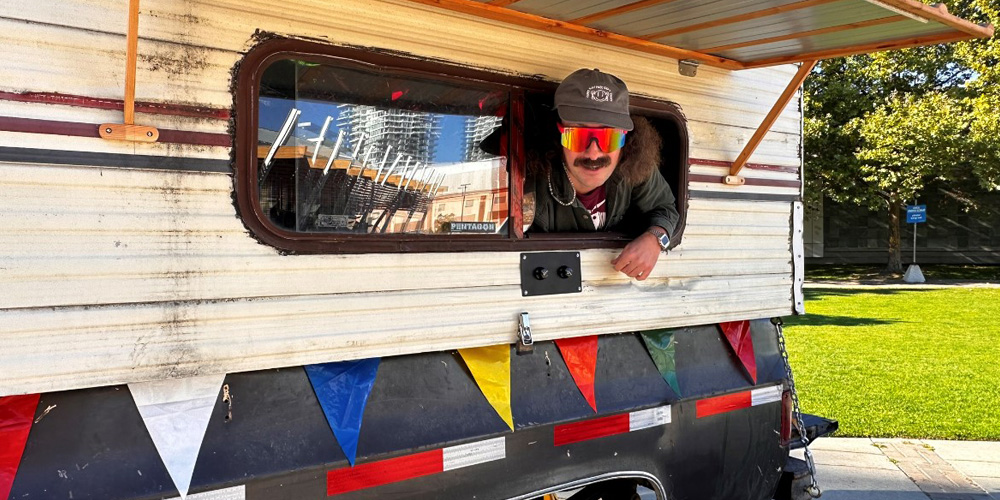 Patrick Lundeen receives FCCS Teaching Award
Congratulations to Patrick Lundeen, who received the 2021-22 FCCS Teaching Excellence and Innovation Award on the basis of student support and teaching evaluations.
Funded project
Interdisciplinary courses foster a personalized learning approach
Dr. Bowen Hui led a project to explore personalized learning in interdisciplinary courses through flexible learning modules. 
Award Opportunities
Engineers and Geoscientists BC Awards
Nominations for the 2023 Engineers and Geoscientists BC Awards are being accepted until April 7. These are British Columbia's top awards for professional engineers, professional geoscientists, and professional licensees, and have been developed to recognize the exemplary and outstanding professional, technical and volunteer contributions in enhancing public safety and well-being in BC.
---
BCcampus Award for Excellence in Open Education
The BCcampus Award for Excellence in Open Education recognizes outstanding contributions to the open education movement in British Columbia. Contributions may include leadership, OER development, research, or advocacy by faculty, students, support staff, or administrators.
Teaching and Learning Funding Opportunities
Call for Proposals: Professional Learning in the Early Childhood Sector in B.C.
The Canada-British Columbia Early Learning and Child Care Agreement – 2021 to 2025 includes an investment to support the development of professional learning opportunities for early childhood professionals. These are general calls to invite proposals to design, develop, and pilot new learnings that fulfill the purposes outlined above and meet the standards and criteria. This call for proposals will remain open until all funds have been distributed.
---
UBC Scholarly Publication Fund
Faculty members looking to publish scholarly works can apply for the Scholarly Publication Fund for support with publication costs, including the use of images, copyrighted materials, or special production elements.