Whess Harman is UBC Okanagan Gallery's Artist in Residence for 2021. During their residency at the Faculty of Creative and Critical Studies they will create new works, give an artist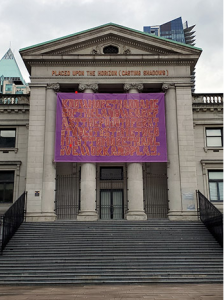 talk, publish an art publication and open an exhibition of new works. Lossy: How to Save File for Future Transmission will be on view at the UBC Okanagan FINA Gallery from June 11 to September 10.
Harman is Carrier Wit'at, a nation amalgamated by the federal government under the Lake Babine Nation. Harman's multidisciplinary practice includes beading, illustration, text, curation and poetry.
Whess Harman's artwork was hung outside the Vancouver Art Gallery just days before the current display of 215 pair of shoes symbolizing the death 215 Indigenous children was placed. Harman's banner states how land acknowledgements are not enough and how they are the lowest bar in the process of truth and reconciliation for the Indigenous peoples.